Sheet Metal Fabrication is the creation of useful metallic parts and structures by the application of multiple fabrication processes. We first determine the overall size and hole structure of the object by Laser Cutting. Then complete the forming of complex shapes by bending. In China, we collectively refer to this type of processing as sheet metal processing. At UP Rapid, we have excellent Sheet Metal technology, providing customers with Low-Cost, High-Quality, Stable, and Responsive Sheet Metal Parts.
Stamping

Laser Cutting

Sheet Metal Capabilities
Our basic guidelines for Sheet Metal fabrication include important design considerations to help improve part manufacture ability, enhance cosmetic appearance, and reduce overall production time.
The 8 Stages of Sheet Metal Fabrication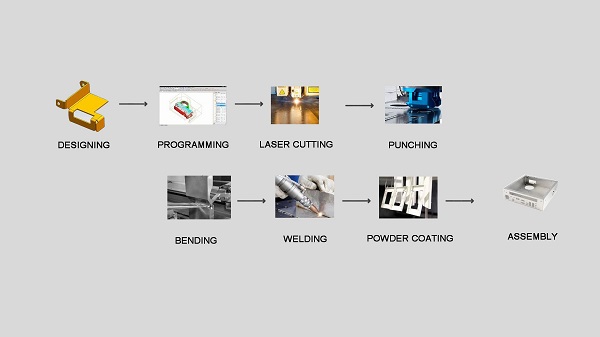 1) DESIGNING
Reasonable use of Sheet Metal structure to reduce the number of Sheet Metal. This stage is one of the highly crucial parts of the whole process since it determines the economic efficiency of the entire project. Expert designer teams ensure the creation of a high specification final product.
2) PROGRAMMING
Once customers or Translate drawings into machine programs that make the final product. The programming expert draws and nests metal parts into 2D shapes on the metal sheet at this stage. The process also ensures maximum and efficient use of Sheet Metal tools.
3) LASER CUTTING
The Laser Cutting process occurs as soon as the machine programs program the job. Following the most accurate techniques to cut the Sheet Metal materials, lasers work according to the programmed design and cut through the metal sheets with convenience, precision, and accuracy.
4) PUNCHING
Several parts and components require unique perforations or forms, such as ribs, countersinks, or louvers. For this purpose, the CNC Punching machine utilizes various tools to strike the metal sheet and either perforate or shape it in desired ways.
5) BENDING
The bending process, also referred to as CNC folding process, is a technique that reaches its completion by utilizing a variety of machines such as an automated panel bending machine, a manual press brake, or a robotic bend cell, depending on the size and complexity of the part. Each machine creates the component by fastening the Sheet Metal between a top tool and die, using pressure to obtain the planned curvature.
6) WELDING
While working with Sheet Metals, numerous welding techniques prove functional. These techniques include MIG welding, TIG welding, projection welding, spot welding, and projection welding. These welding techniques mitigate warping or other abnormalities during Sheet Metal ductwork.
8) POWDER COATING
The powder coating process involves applying an electrostatic powder to a charged metal part before mending at heat to make a durable coating.
7) ASSEMBLY
The assembly stage also differs and relies on the complexity of the final product. It spans from simple weld assemblies to complex electrical integrations. These integrations might include PAT testing, looms, and hardware installation. However, several assemblies need insertion. Insertion involves pressing a stud, nuts, or other parts to bind the product together.
Finishing
We offer welded assemblies, standard mill, edge breaking, and orbital-sanded surface finishes along with a number of additional Sheet Metal finishing options:
1). Seam, tack, and stitch welding
2). Hardware insertion and riveting: Standard PEM sheet metal hardware
3). Powder coating: A variety of powder coat paint colors available in textured and non-textured finish, including RAL colors.
4). Silk screening (one- and two-color): Colors mixed to closely match most Pantone numbers
5). Assemblies: POP-riveted and welded
6). Plating: Anodize, chromate, zinc, and passivate
Sheet Metal Fabrication Video